Most new parents need a car seat, not least to get their baby home from the hospital. But how do you know which option is right for you and your lifestyle?
Baby car seats come in two options: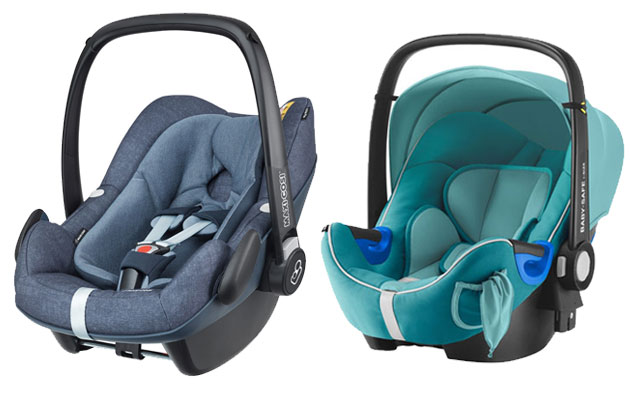 Car seat categories:
Group 0+ (from birth to 12kg, around 12 months)
i-Size infant carry car seats (up to 75 or 85cm, depending on the manufacturer, which is around the 15 or 18 months mark respectively)
Prices start around £180 for the seat and £100 for an Isofix base.
These car seats generally last to a maximum of 85cm (depending on the model). i-Size is not age specific, but generally you'll use an infant carry car seats until your baby is around 15 months old.
Pros: These are a highly portable car seat option, allowing you to move your tiny traveller from car to pushchair without waking them. Simply attach the car seat to your travel system buggy (double check they're compatible before you buy) and away you go!
Cons: Carry car seats only last to a maximum of 85cm (depending on the manufacturer) which is around 15 months and they're not cheap. So for some parents, this may feel an expensive option, especially if you opt for the Isofix base as well.
Key features to look out for:
Carry car seats are rear facing only – the safest way for a baby to travel. It is recommended that car seats are used in the rear seats of the car only as it is proven to be the safest location within a car for infants to travel. However, in the UK, you can use an infant carry car seat in the front passenger seat of a car if you disable the airbag.
Five-point harness.
Side-impact protection (all the squidgy cushioning at the sides of the car seat). In the event of a crash, this both cushions and protects your baby but also absorbs the force of the impact, meaning less strain on your newborn's spine, neck and muscles.
Can be installed using the car's standard three-point seatbelt or an Isofix base (usually sold separately, starting at around £100). Using an Isofix base is the safest way to travel and conforms to R129 (i-Size) regulations. However, if you opt to install using the car's seatbelt only, the seat itself is still safe.
Carry handle (which also acts as a rebound bar in a front or rear collision, ensuring the car seat doesn't rock).
Newborn insert to make it more snug fitting and cosy for even the tiniest of travellers.
Built-in sunshade.